People spend years and good money restoring a classic car
and then fit radiator and cooling system hoses that are past their sell-by date
WHY ?
When you could be using quality British made NEW hoses
Rubber hoses deteriorate with age as much as with use, but even more so when left exposed to light and air and displayed on autojumble stalls. Your car's engine is worth more than a five pound 'new' old stock radiator hose, so why not get your owners club to invest in some brand new ones from our extensive range of tooling if indeed they are not already one of our customers.
We have a large range of hose tooling and from our works in the Pennines can hand make radiator and cooling system hoses for a substantial number of vintage & classic cars and commercials dating back to the 1930's. These can be made in pure rubber, with Kevlar reinforcement for extra long life if required, or in oil/petrol proof materials - for example when used as engine breather hoses.
All our hoses are hand made to order - we do not stock hoses - so you can be assured your hoses are brand new. Our minimum order level is to a value of £200.00 so please understand that we cannot make 'one-offs'. If you are a member of a recognised car club, why not ask them to order a batch of hoses for your range of cars.
The minimum quantity of any listed tool is 10 units but subject, of course, to our £200.00 minimum order level.
However, if your order does not come up to this minimum level, we can consolidate your order with others to keep our works accountant happy. This will mean some delay in production as we will await other orders coming in, to which we can add your order. Please do not hesitate to ask us for a quote.
We can produce hoses from accurate drawings or from a good sample where we do not presently hold a forming tool. Please enquire for further information.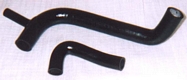 | | | | |
| --- | --- | --- | --- |
| Click on the Adobe PDF logo to download our CAR & LIGHT COMMERCIAL application list (you will need Adobe Reader to view this) | Click on the Adobe PDF logo to download our COMMERCIAL VEHICLE application list (you will need Adobe Reader to view this) | Don't have Adobe Reader on your computer - click on the logo to download a copy now | We now accept PayPal ... if you have a PayPal account please use steve@cpsairedale.co.uk to send payments to us. Click the logo for details. |
In addition to the vehicles shown on the above two application lists, we also have hose tooling for some of the following vehicles. If you are interested in any of these, we will be pleased to send you a copy from our master catalogue listings on request.
Alfa Romeo, Audi, De-Lorean, FSO, Lada, Lancia, Lotus, Mazda, Mercedes, Mitsubishi, Nissan, Opel, Peugeot, Porsche, Renault, Skoda, Subaru, Talbot, Toyota, David Brown Tractors, International Harvester, Massey Ferguson, Ford Tractors.
ROMO HOSES ... made at the foot of the Pennines